Step 1: Verify You're Ready
---
Have you purchased a domain, setup a payments, and configured shipping settings? These are all things you should do before Going Live. For a complete checklist, see: New Store Setup, Testing and Go Live Checklist.
Step 2: Access the Domain Control Menu
---
Once you've verified that you're ready to go live, you can take the site live right in the admin dashboard! Simply click the profile icon in the bottom left corner and select My Account. You will then find the link to our Domain Control menu.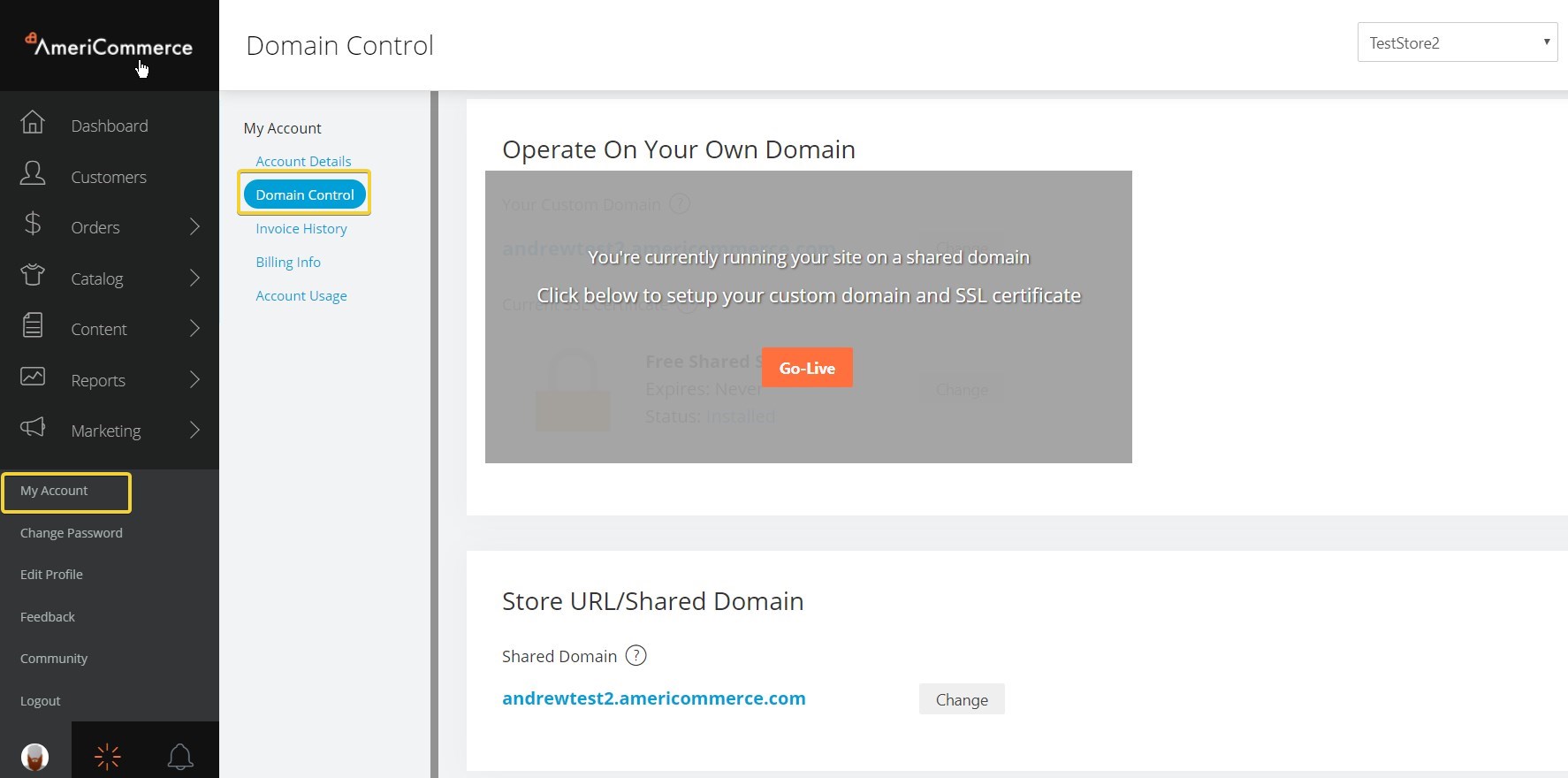 Step 3: Proceed with the Go-Live Wizard
---
Click the Go-Live button on the top to open up the Go-Live Wizard. With 4 steps your site will be live!
Step 1: Set Your Custom Domain: Enter your custom domain that you want your site to be named as.

Step 2: Choose Your Site Security: You can select the option to use our $5/Month AutoSSL or opt in for the Free Shared SSL to have your site be a subdomain of americommerce.com. For more information, you can check out: Purchasing & Installing an SSL

Step 3: Verification: Verify all the information from the last two steps are correct that you have access to your domains's DNS settings.
Step 4: Point Your Domain To AmeriCommerce: You will be given the CNAME to add to your DNS.
Click Finish and now you're live!
FAQS
---
Do I need a CloudFlare account?
If you are using a domain name such as example.com for your store, and www.example.com, will also point to your store, then your use is normal, and you should proceed with the next section: Regular DNS Setup.
If you are using your domain name to host an existing web site, and your store will be a separate site, residing on a sub-domain name such as store.example.com or shop.example.com , then you would need to set up a CloudFlare account and you would refer to the article: Setting up CloudFlare.
What DNS records do I need?
To configure your existing DNS records for your store, you need to use the Static IP configuration. This method requires adding, or editing, 3 DNS records at your domain name registrar.
| Type | Host | Target/Value |
| --- | --- | --- |
| CNAME | www | stores.americommerce.com |
| A | @ | 34.197.145.7 |
| TXT | @ | v=spf1 include:sendgrid.net ~all |
If you get stuck along the way or have any issues with the go live process, please give our support department a call at 1800-936-9006 or submit support ticket.
How do I use a naked domain?
CNAME Flattening allows a CNAME record to be created for the root domain without violating DNS specifications. This will need to be used if you wish to use a naked domain as your custom domain with AmeriCommerce.
Most registrars, do not allow CNAME flattening for root domain names, some services such as CloudFlare, Easy DNS and Amazon AWS allow some form of name flattening.
AmeriCommerce, partners with CloudFlare, to make use of their CDN's speed and security. CloudFlare offers free accounts, that you can use to manage your DNS, and make use of the CNAME flattening feature.