Overview
---
Need to upload or download files in bulk? AmeriCommerce supports mass file upload and download via SFTP (SSH File Transfer Protocol). To connect to your site over SFTP, you'll need two things:
SFTP Credentials
If you don't already have an SFTP client installed on your local machine, use your favorite search engine to find and install one. There's many free options available (FileZilla, CuteFTP, SmartFTP, FTP Explorer, FireFTP, WinSCP), and each has its own interface and features. This article uses screenshots from FileZilla as examples, so if you're not familiar with configuring SFTP clients, FileZilla would be a good choice; however, any reputable SFTP client will work.
Once you have an SFTP client, SFTP credentials can be obtained by submitting a support ticket.
SFTP Client Configuration Example: FileZilla
---
To create an SFTP connection to your AmeriCommerce storefront's, open up FileZilla and create a new site in the Site Manager (Files > Site Manager):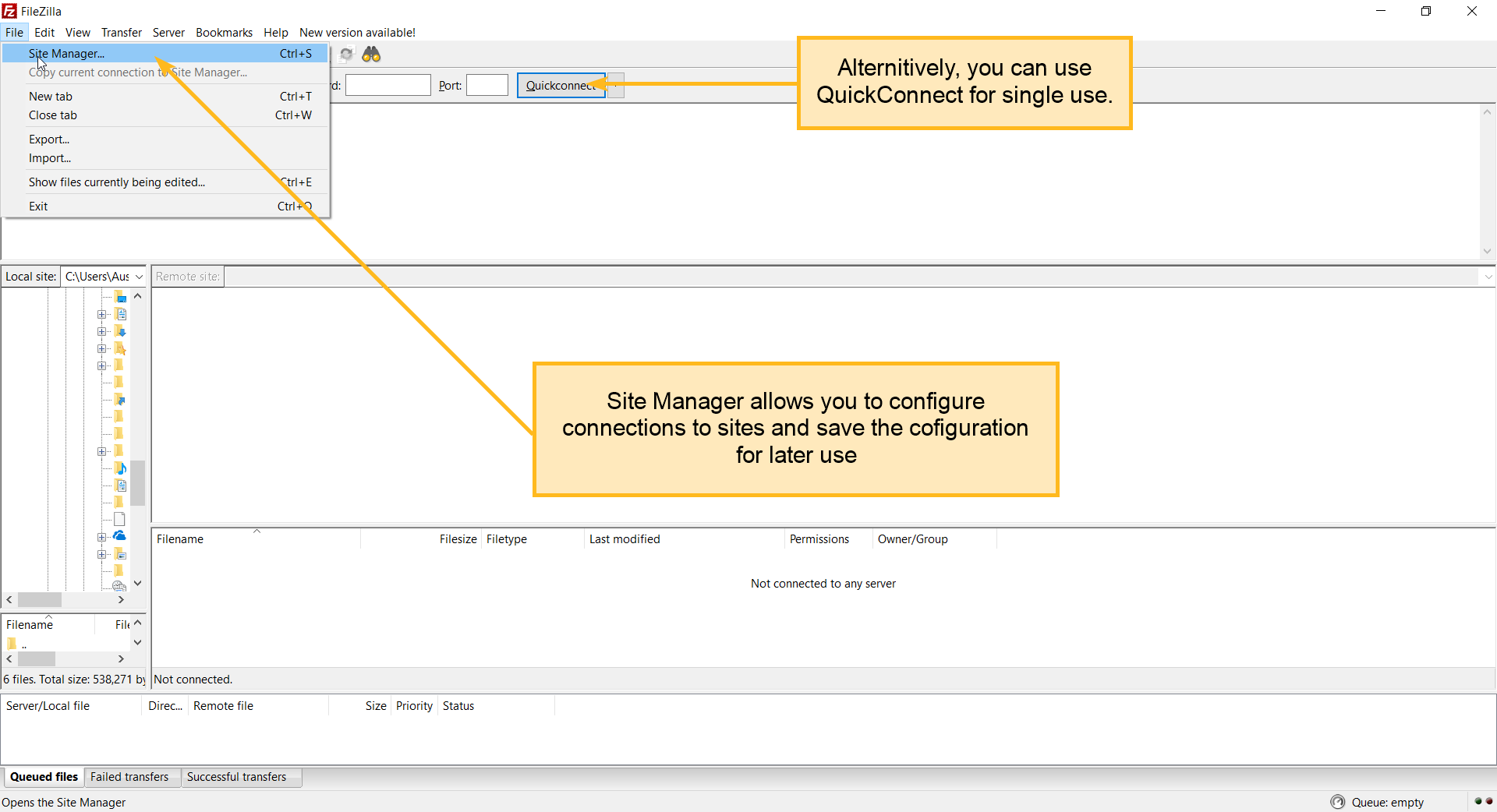 Once there, create a new site and configure it as follows:
Server Type: STFP (SSH File Transport Protocol).
Host: ftp.americommerce.com (if using QuickConnect, include the protocol like so: sftp://ftp.americommerce.com)
Port: 22
username and

password

are separate from the admin login you use to log in to your site. SFTP credentials can be requested by submitting a support ticket.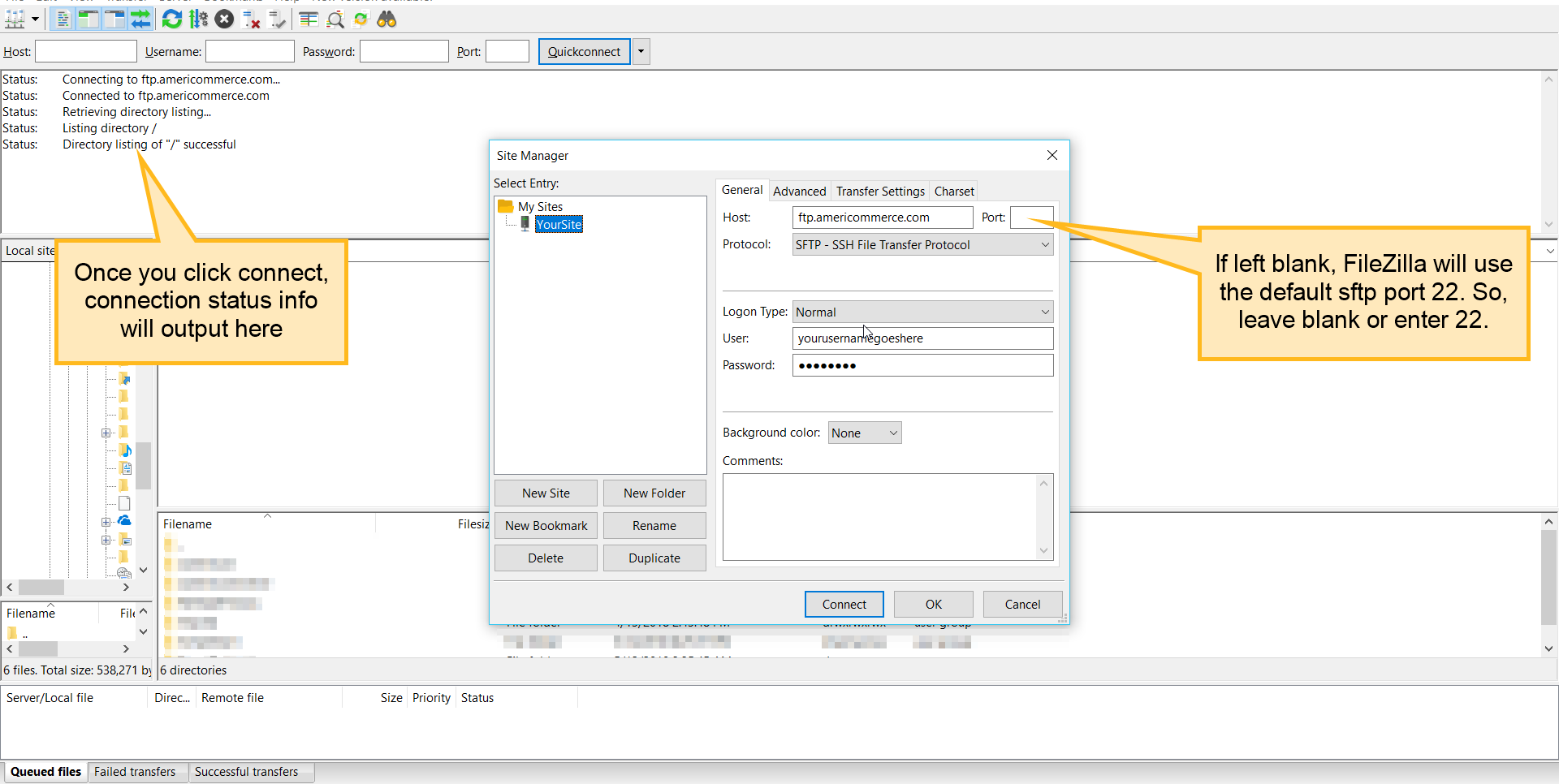 While still in the Site Manager.
Under the tab titled "Transfer Settings"
Enable the checkbox for "Limit number of simultaneous connections"
Then set the limit to 2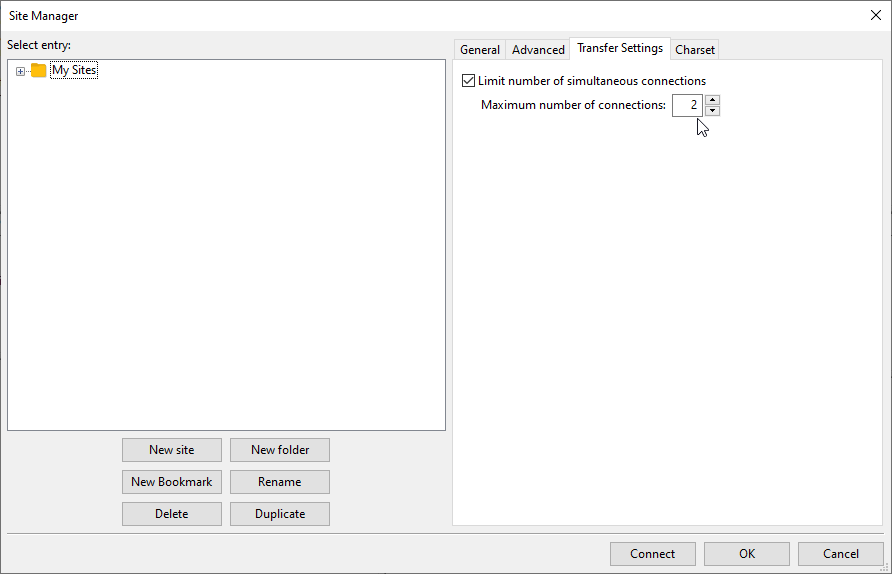 Note: If the limit is set higher, the connection could fail, or keep disconnecting.
Also, because of this limit, only one user should log in to the FTP account at a time.
Once you are finished with the configuration, click Connect. It could take several moments to connect. If the connection is successful, you will see the directories from your site's file system.
Troubleshooting
---
If you get a timeout error or an error saying something like "the server failed to respond", go to Edit > Settings > Connection and increase the timeout in seconds setting (or set to 0):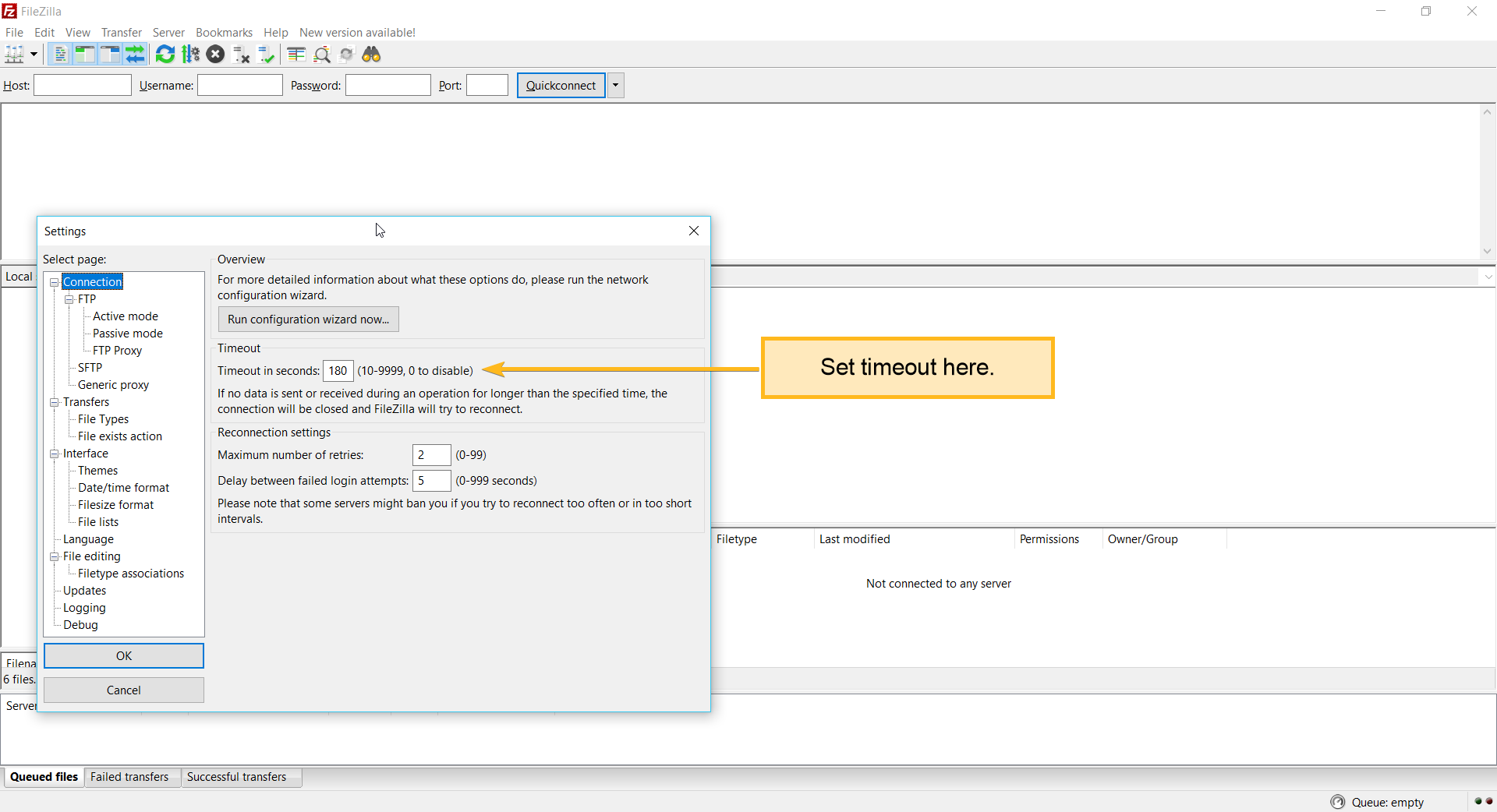 If you get an authentication error, the password or username entered might not be correct. Edit your site's configuration, triple check the credentials, and then try to connect again.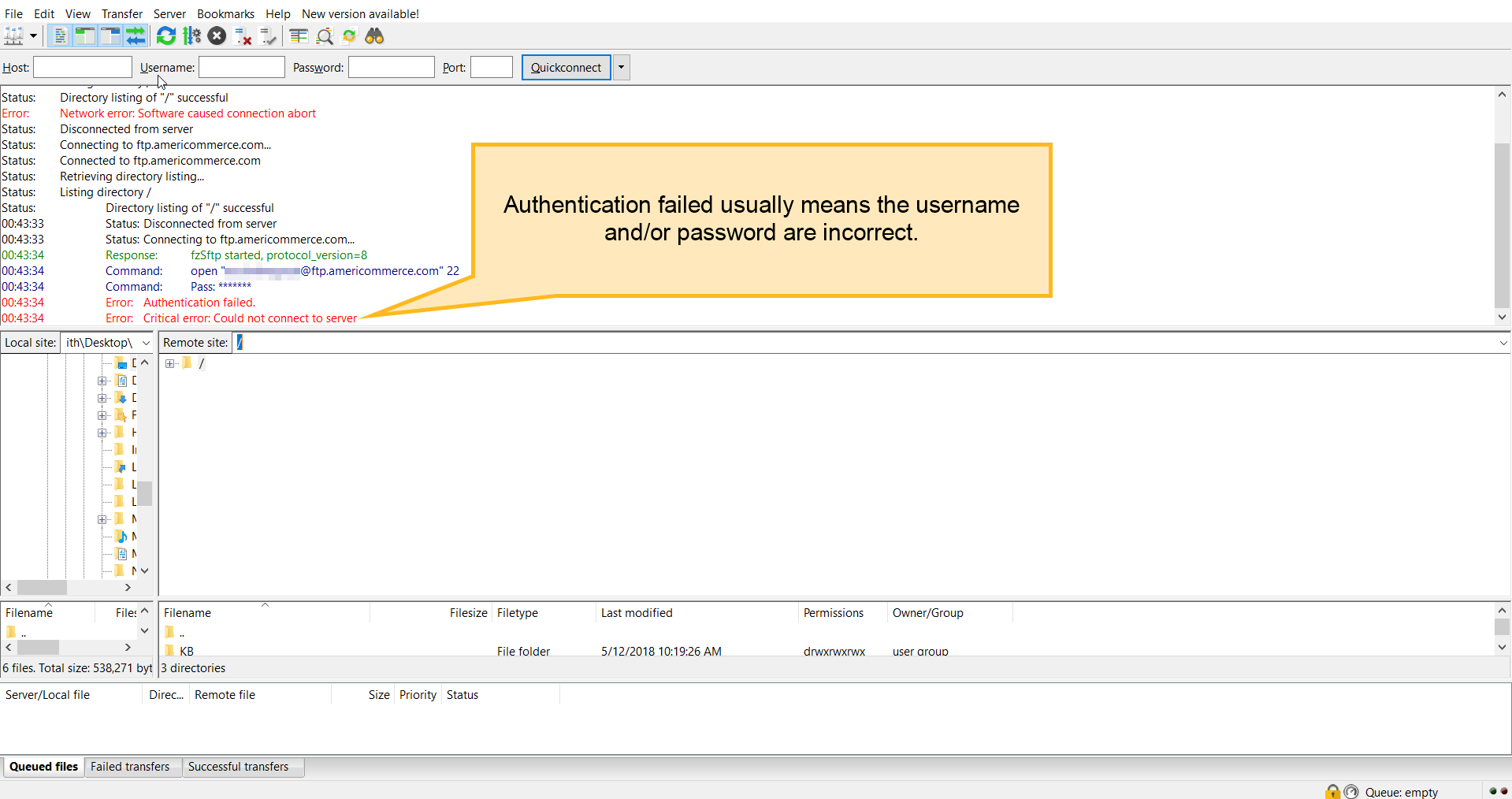 Additional troublshooting steps:
triple check that the hostname is exactly ftp.americommerce.com
If you're using FileZilla's QuickConnect, make sure you've also included the correct protocol: sftp://ftp.americommerce.com
Make sure port is set to 22 or is blank.
If you're unable to connect after following these steps, feel free to open a support ticket. We'll be glad to take a look. You can help us help you by attaching a screenshot of your connection configuration settings as well as a copy paste of the output log or any error messages.
Other Methods of Uploading & Downloading Files
---
Your store also has an in-app file mangager accessible by clicking Content > Files (or Themes > Edit Theme > Edit Theme Files):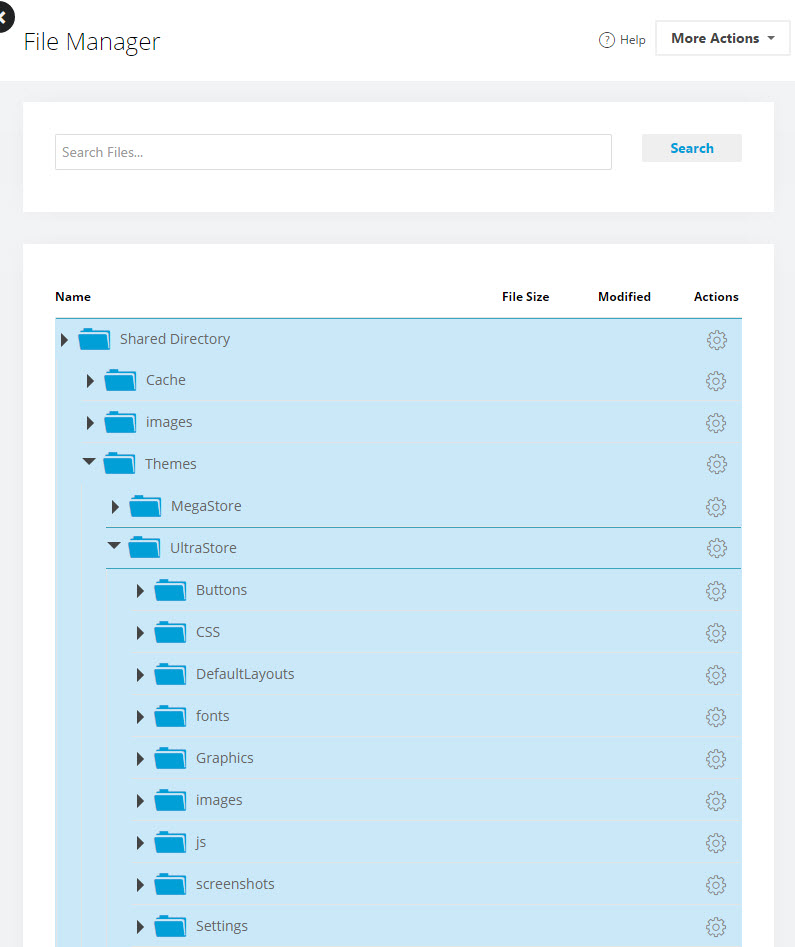 Click the cog next to a directory, then click Upload Files Here to upload a files to that directory. If you select multiple files on your machine and then drag and drop onto the upload pad, all files selected will be uploaded.