Overview
---
Are you ready to save all your hard work?!?! This article will walk you through all the steps in backing up everything on your store and the recommended way to store that information. Let's get started!
NOTE: The video below mentions contacting Support to backup Content pages. You can Export your content pages by adding the following to your Store URL:
/store/admin/tools/Export.aspx?type=ContentPages
You can also Import your content pages by adding the following to your Store URL:
/store/admin/tools/import.aspx?type=ContentPages
There is not an Import for content pages, but you can use the "Content" Column from the export to copy and paste the HTML into a new Content page if you ever have to recreate them.
Backing Up Store Information
---
Note: These exports do not have to be done in any particular order. Nor do you have to do all of them. Only export the information on the data that you want to back-up.
Navigate to Tools > Data Export in your admin console.
Click the blue Select button under the data you need to export.
Do not change any options and select the green Export button in the top right corner. (This will create a file with full mapping.)
Repeat steps 1-3 above on all 7 common exports listed below:
Category
Customer
Order
Product
Product Pricing
Product Variant
Product Variant Inventory
Once you have exported all the files navigate to your Downloads and find all 7 files.
Create a new folder and title it Online Store Backup.
Add all 7 exports to that folder.
You have now backed-up all your stores information.
Backing Up Your Theme
---
Navigate to Themes and select the Gear Icon under your active theme and select Export.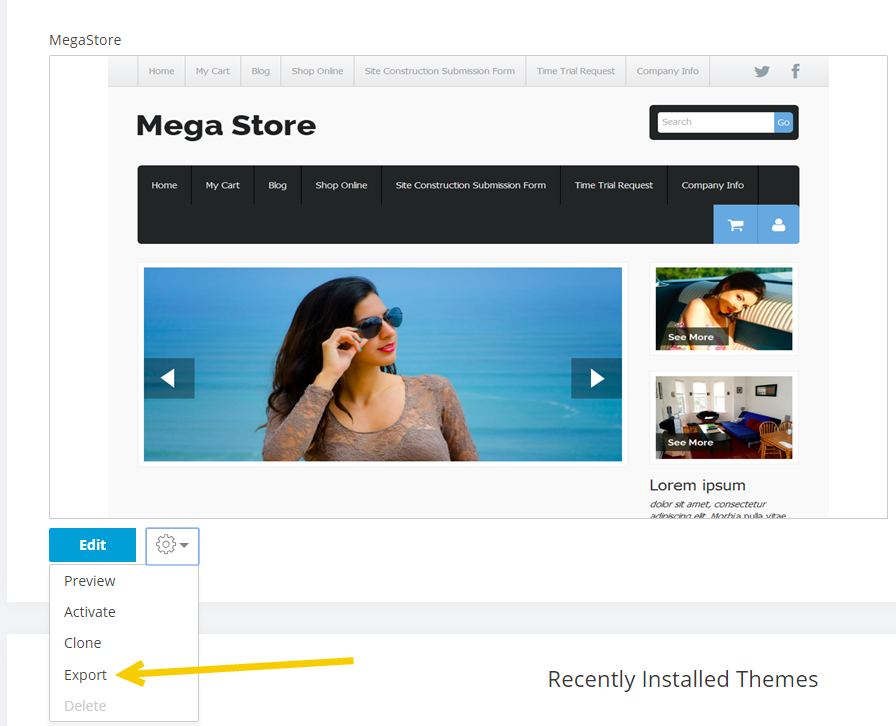 Once that file is downloaded. Locate it in your downloads.
Add that file to the same folder you created above titled Online Store Backup.
Now in Windows right click the folder and Hover over Send To and choose Compressed (Zipped) Folder.
Everything is now back-up up in that one file. Keep it safe!