Overview
---
Cart Shipping gives brands of any size access to commercial carrier rates when fulfilling orders. Brands enrolled in Cart Shipping can save up to 88% off shipping costs and manage orders and label purchasing all in one place. Today we support postage services from USPS, Fedex, and DHL. Cart Shipping is currently in a closed beta but will become generally available soon! Reach out to your Customer Success Manager to request access.
Enroll in Cart Shipping
---
To enroll in Cart Shipping, navigate to Settings > Shipping > Shipping Labels and click Enroll.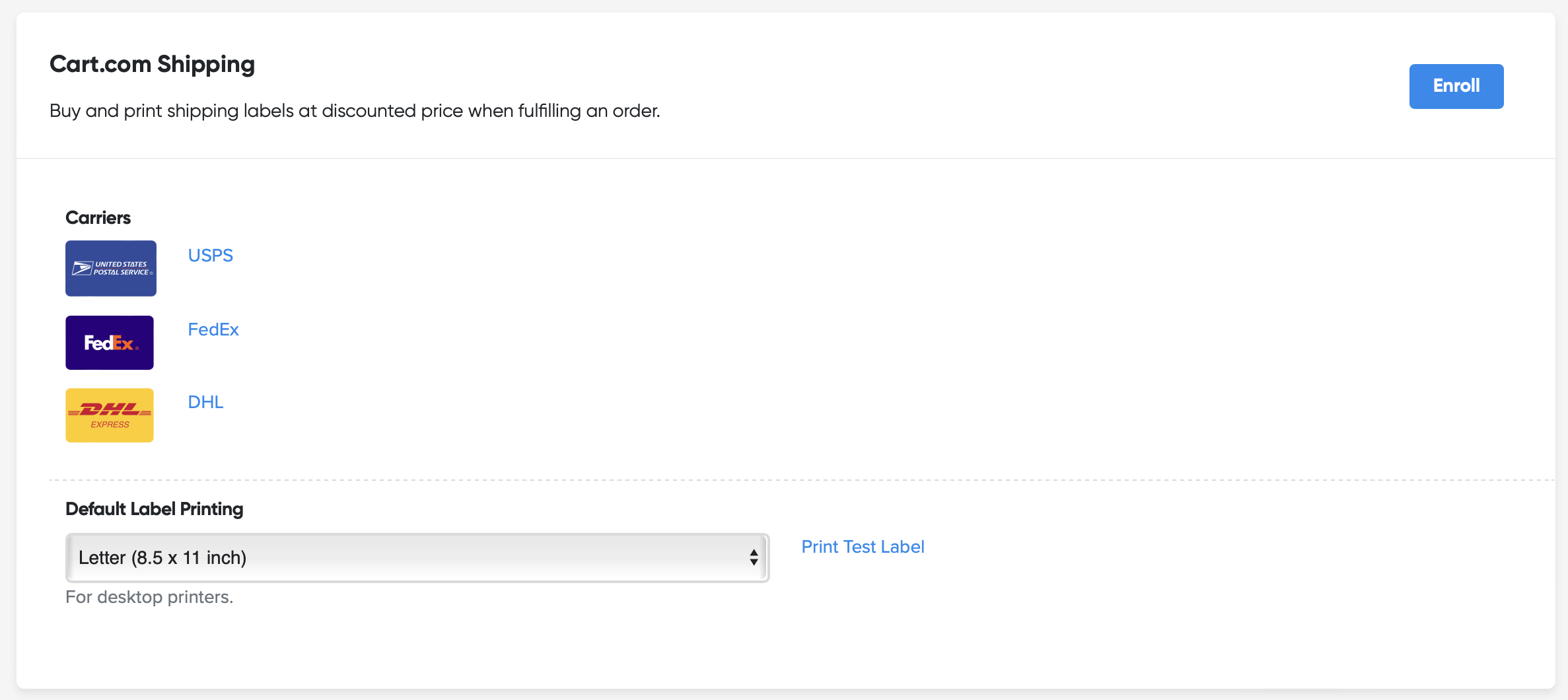 From there, you'll be prompted to accept Terms of Service and input a payment method for purchasing labels if you don't have one on file.
Enabling Carriers
---
Enabling carriers is as easy as toggling them on and off in Settings > Shipping > Shipping Labels. Please note, these rates are not yet available for use on Checkout.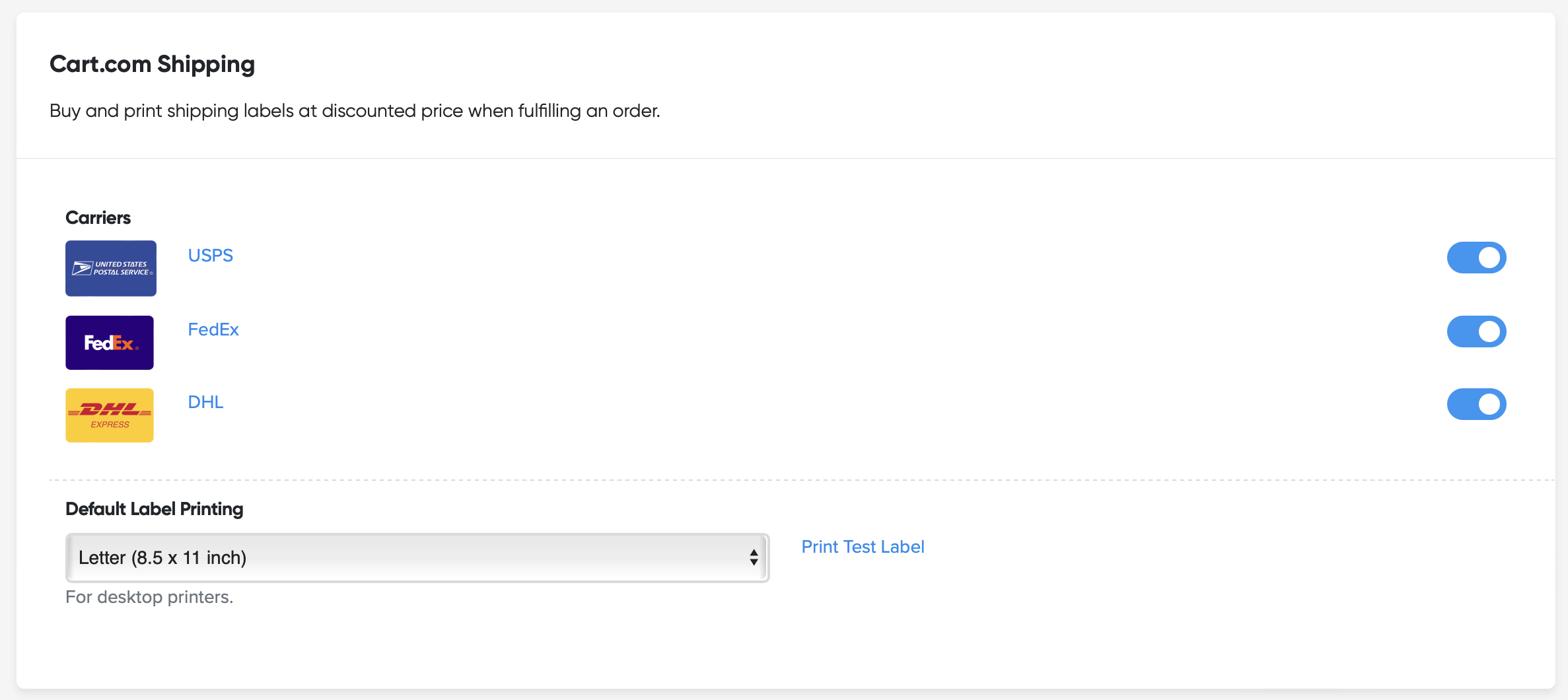 Setting Up a Default Package
---
We've pre-populated a set of commonly used packages in Settings > Shipping > Shipping Packages. If you have a standard package used for your orders, you can set it to the default package by clicking Edit Package > Set as default package > Save.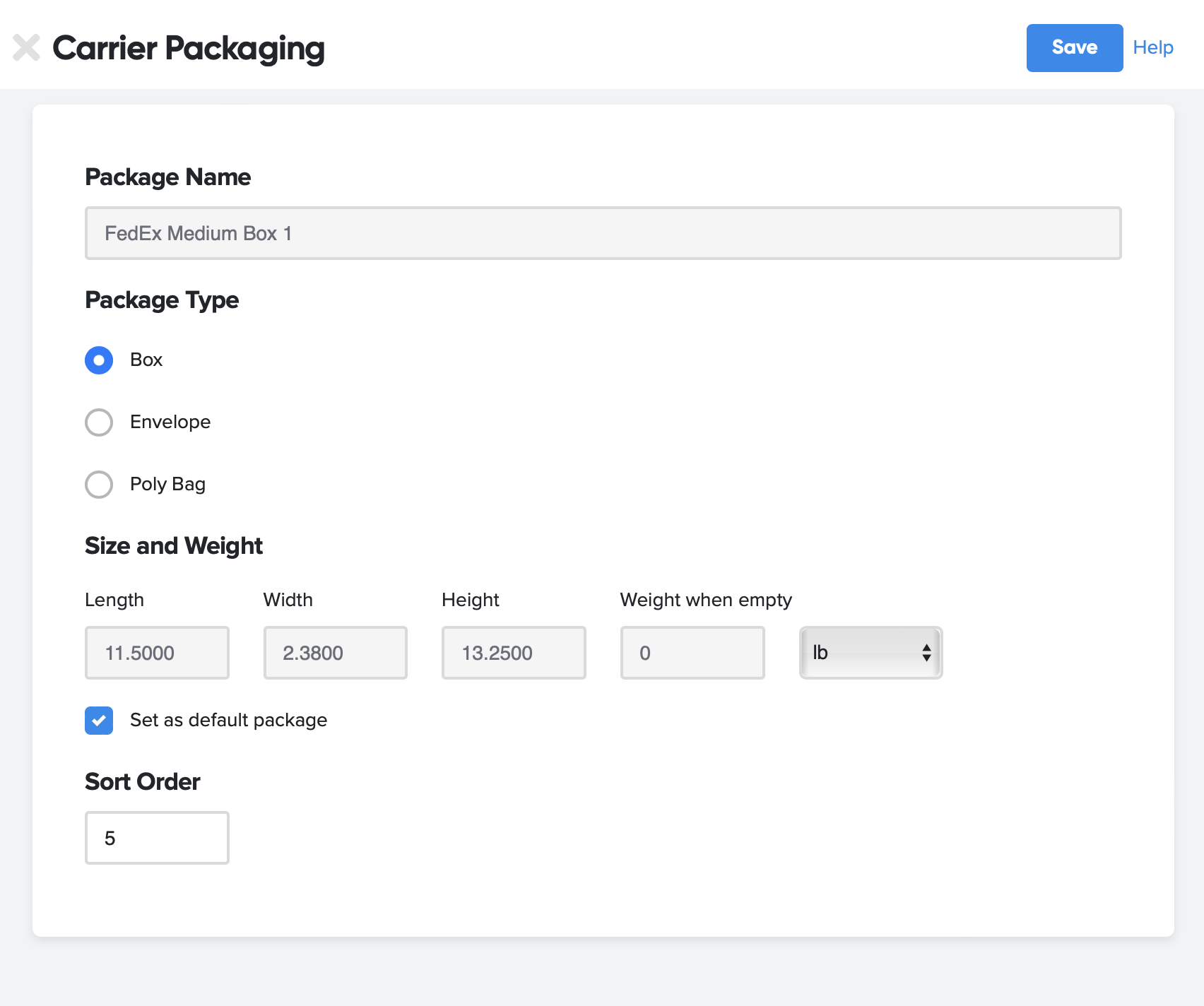 Printing Labels
---
To print a label, click the Label Icon on an order or click Edit Order > scroll to Shipments > click Print Label.
To request rates, select the items you want to ship, input the package dimensions and weight and select your sender address. Click Get Rates and select the label you want to purchase.
You can also input custom package dimensions by selecting Custom Packaging on the package dropdown. You can select individual items if you want to buy a label for an item that ships separately.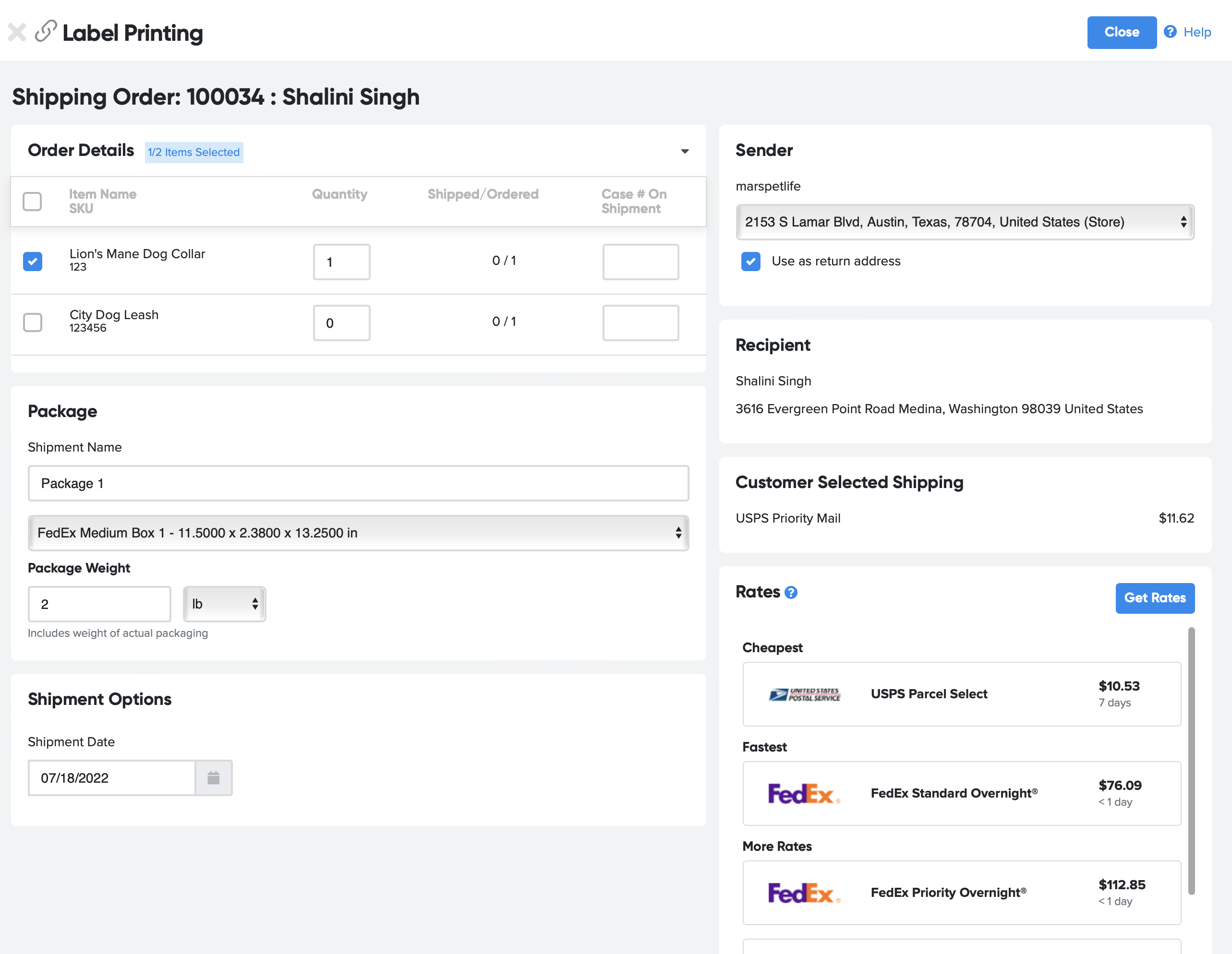 To purchase a label, click Buy Label. To print your label, click Print Label through the Label Printing modal or through Edit Order > scroll to Shipments > click Edit Shipment.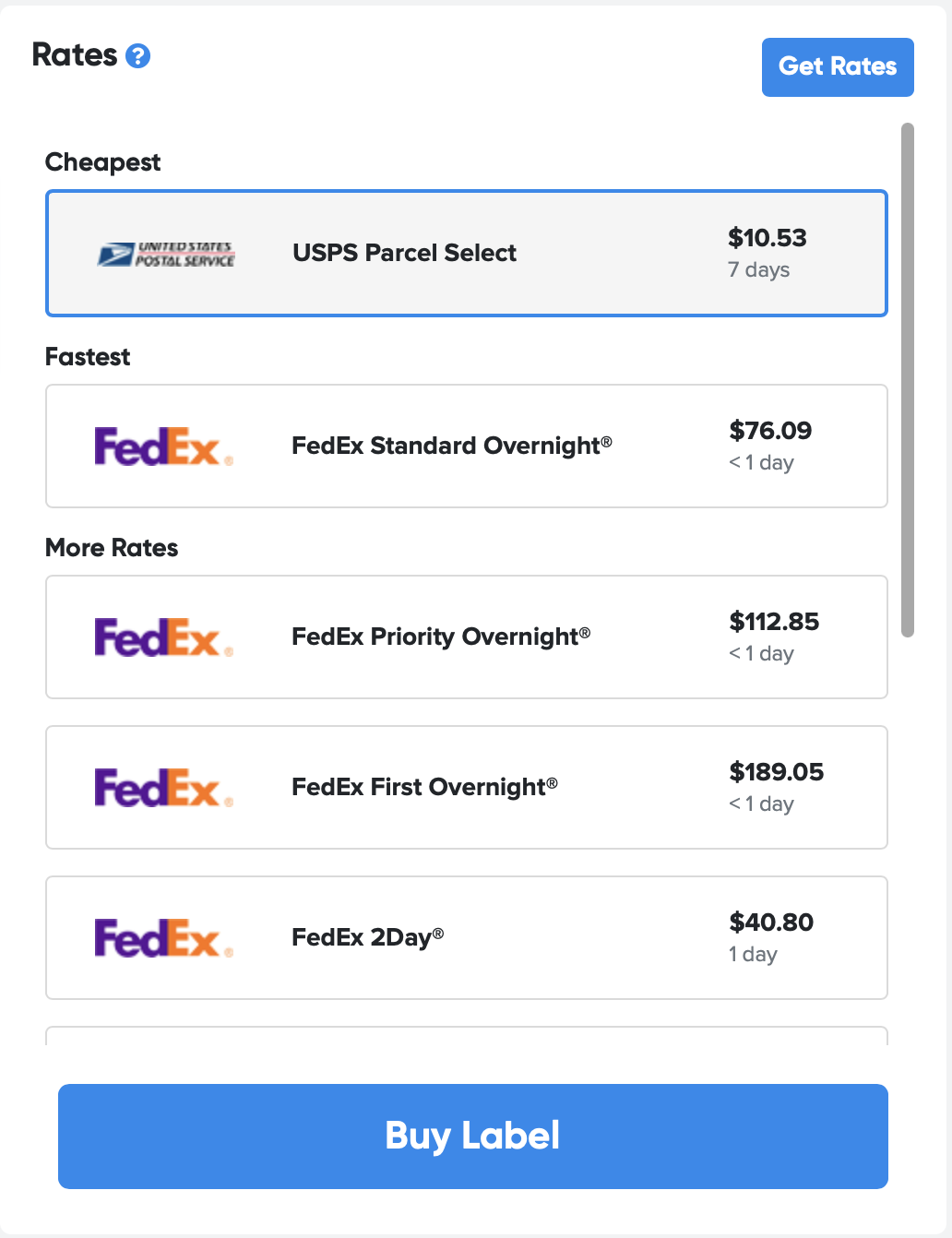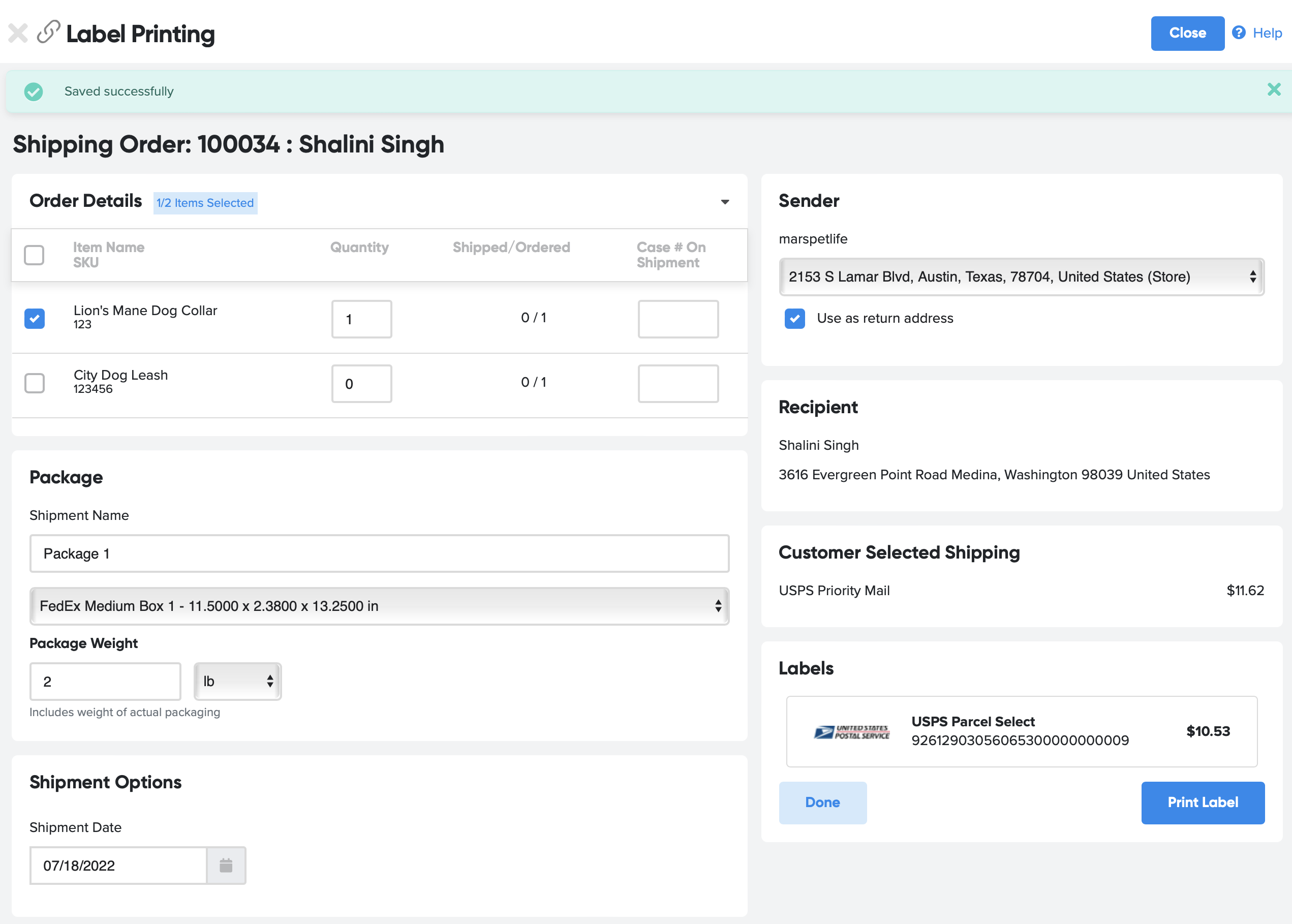 Billing, Requesting Refunds, and Receiving Surcharges
---
You will be invoiced for your first label purchase. From there, you'll be invoiced if you either:
Purchase more than $100 worth of labels (exceeding the billing threshold), or

It has been two weeks since your last invoice
Either of those two cases will trigger the end of your billing cycle. This means the day of the week that you are invoiced is determined by your last invoice date.
Invoices can be accessed through My Account > Account Details & Invoice History.
You can request a refund for any unused label. Receiving your refund may take up to 14 days. You can check the status of your refund request on Edit Order > scroll to Shipments > click Edit Shipment.
You may receive a surcharge on your invoice if your package dimensions or weight are under-represented or you use a single label multiple times.
Detailed Shipment Information
---
To access the detailed shipment information or request a refund for your label, navigate to Edit Shipment by clicking Edit Order > scroll to Shipments > click Edit Shipment. From there, you can print your label, request a refund, view shipment information, and view the items in the shipment.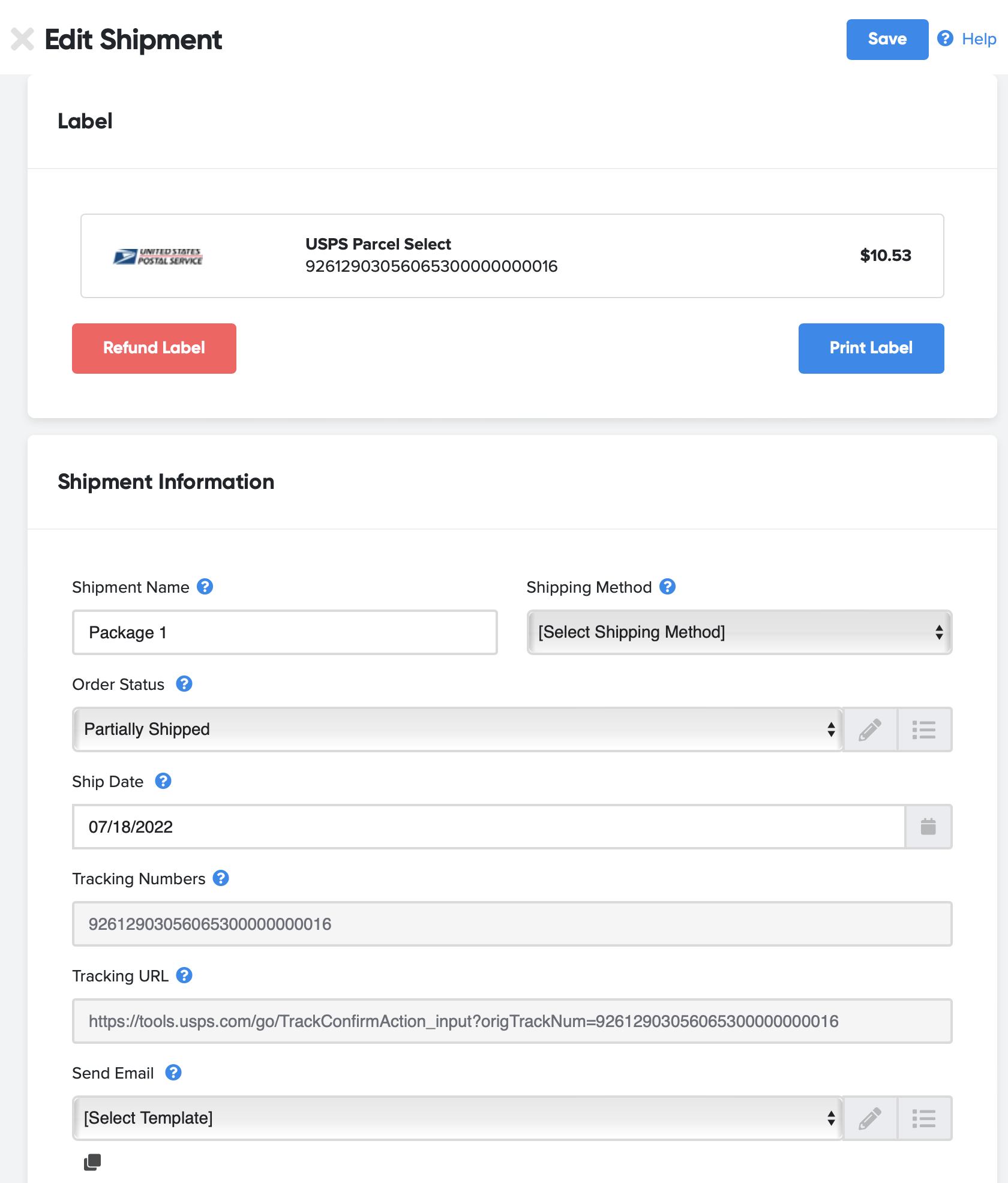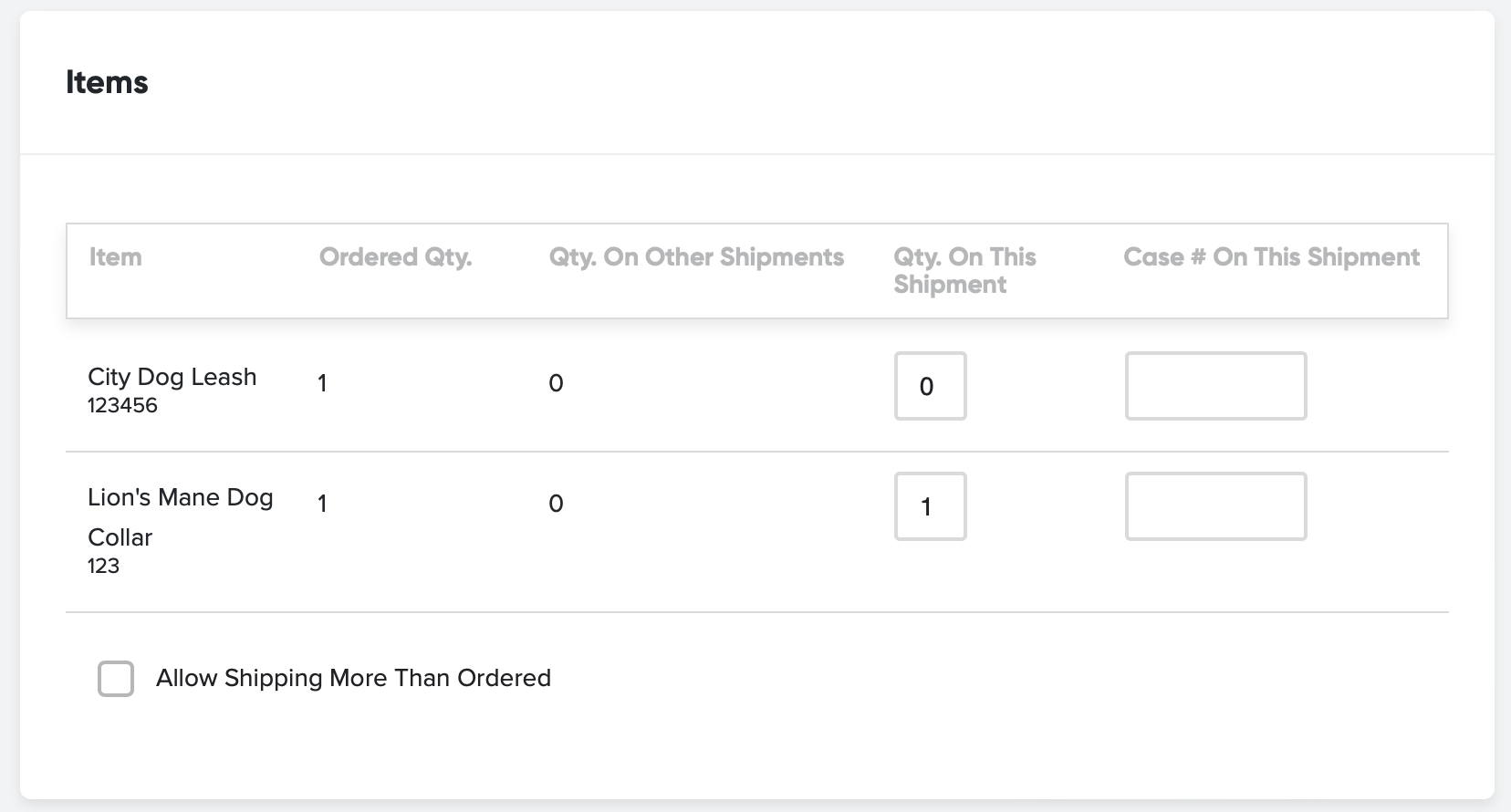 Shipment Status and Email Notifications
---
In Settings > Orders > Order Statuses, you'll find a pre-populated list of common order statuses. We've set default email notifications for the Shipped and Partially Shipped order statuses. You can change the email template used to notify a customer by clicking the Edit icon on the order status and selecting a new email for Email Notification.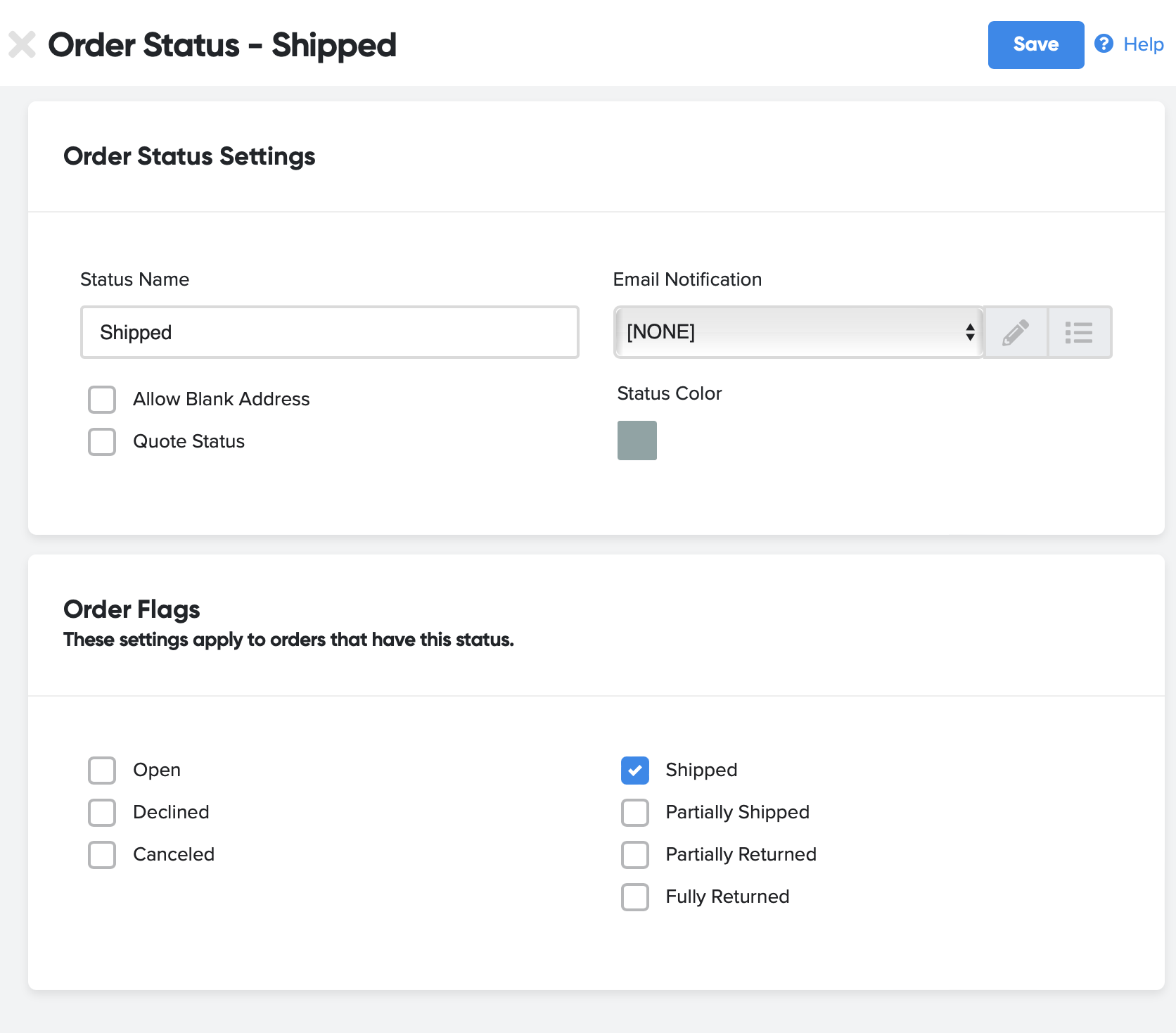 You can also modify the default email templates for Order Shipped and Partial Shipment through Marketing > Email Template > Edit Email Template. You can add additional merge codes to the email body and subject for things like the order ship date and tracking URL. Learn more about email templates here.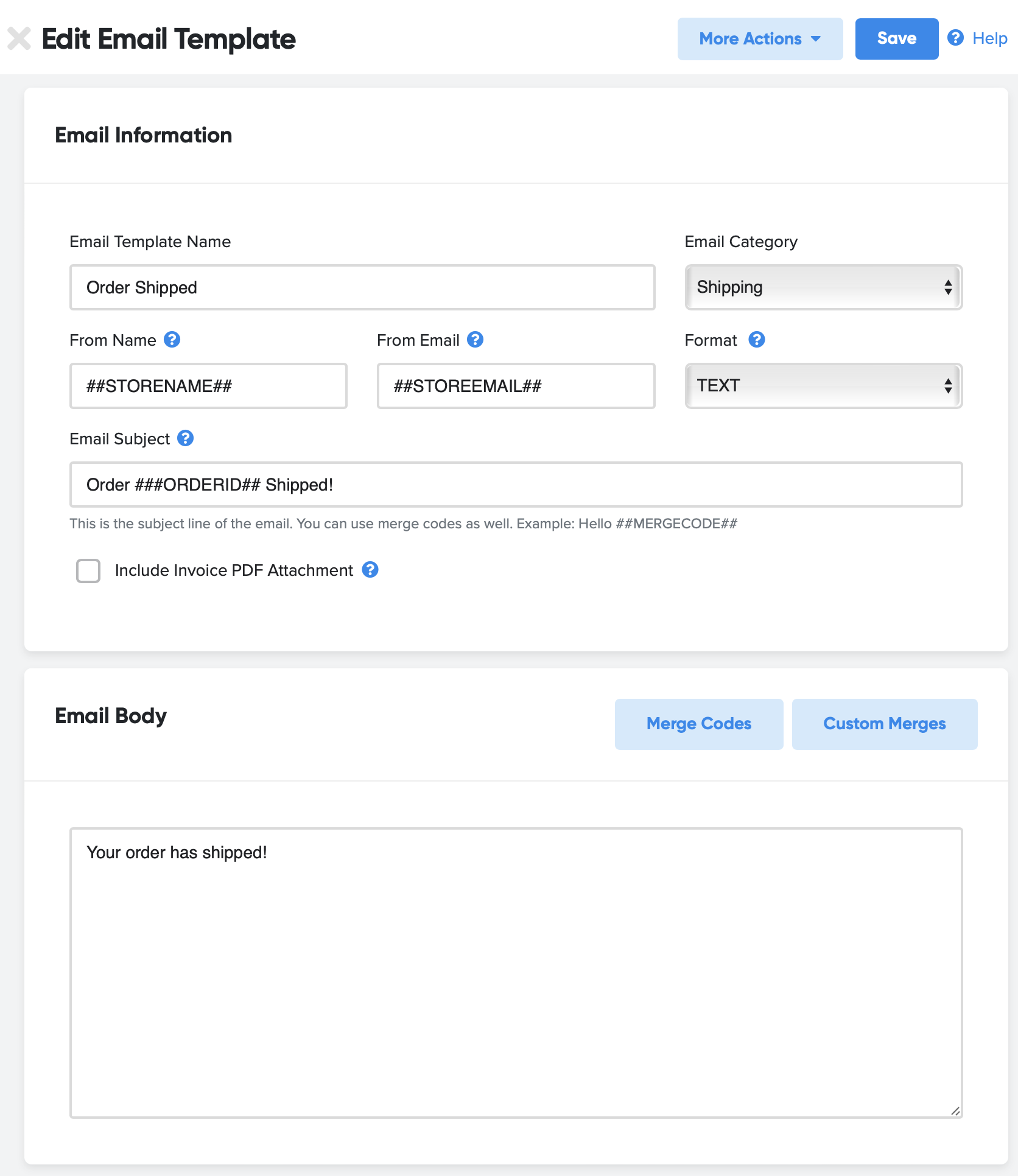 Automatically Update Order Status Based on Label Purchases
---
Instead of manually updating the status of your order, you can set the status to update automatically based on when you purchase labels for an order. If you purchase a label for an entire order and set the Shipped Order Status to Shipped, the status will automatically update to Shipped.
Additionally, if you set the Partially Shipped Order Status to Partially Shipped, the status will update if a label was purchased for an item in that order. To configure these status updates, navigate to Orders > General > scroll to Order Shipment and set your desired statuses.