Overview
---
QuickBooks is an accounting software package developed and marketed by Intuit, and AmeriCommerce allows store owners to easily sync their Customers, Orders and Inventory with QuickBooks through their admin dashboard. This article will guide you through syncing with QuickBooks Online only. If you are using the QuickBooks Desktop version please see our article on AmeriSync.
Setup QuickBooks Online Account
---
If you haven't already, you can create an account and purchase QuickBooks Online by clicking here.
Once in your account you will need to make sure you have Shipping turned on, as well as, Discounts if your store is using them. You will find these settings in Account and Settings > Sales within QuickBooks Online: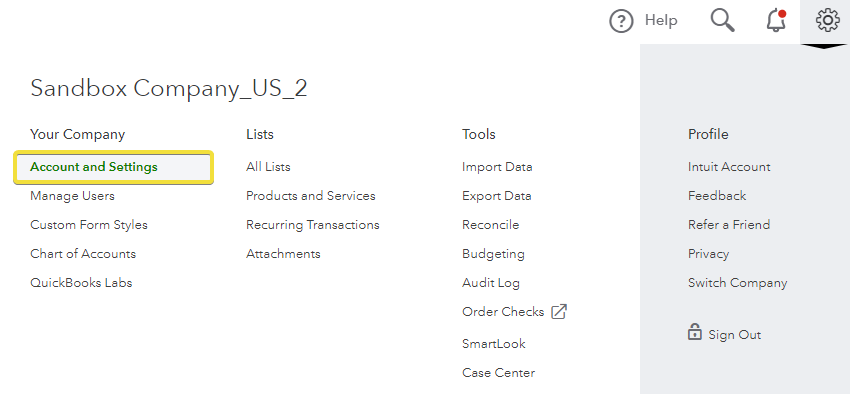 There will be a pencil icon in the upper right that will allow you to edit the fields. Once enabled, remember to click save.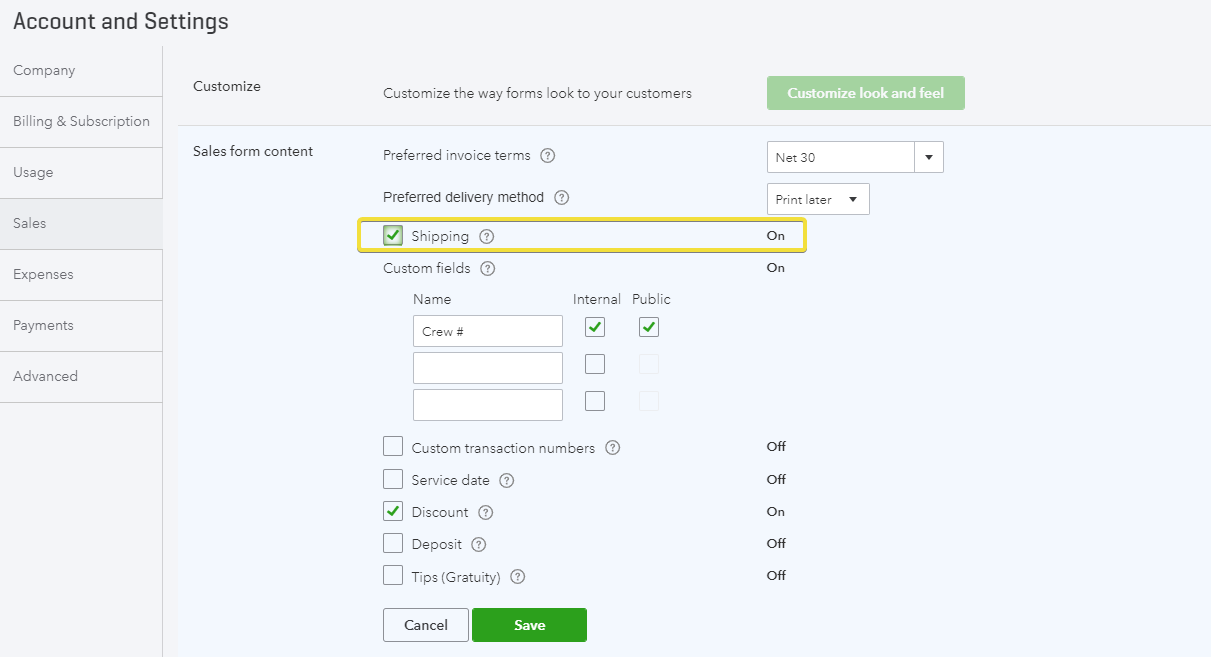 Sync Settings
---
Next, you will need to enable QuickBooks Online within your store's admin dashboard. You can find this in Tools > Apps & Addons > QuickBooks Online: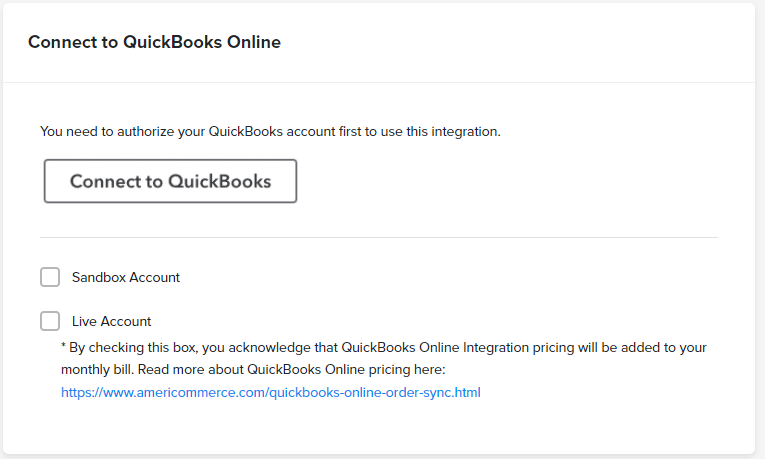 Note: Enable Sandbox only if you are setting up a testing environment.
Once you have enabled QuickBooks Online, you will then be able to view/manage the sync settings seen below: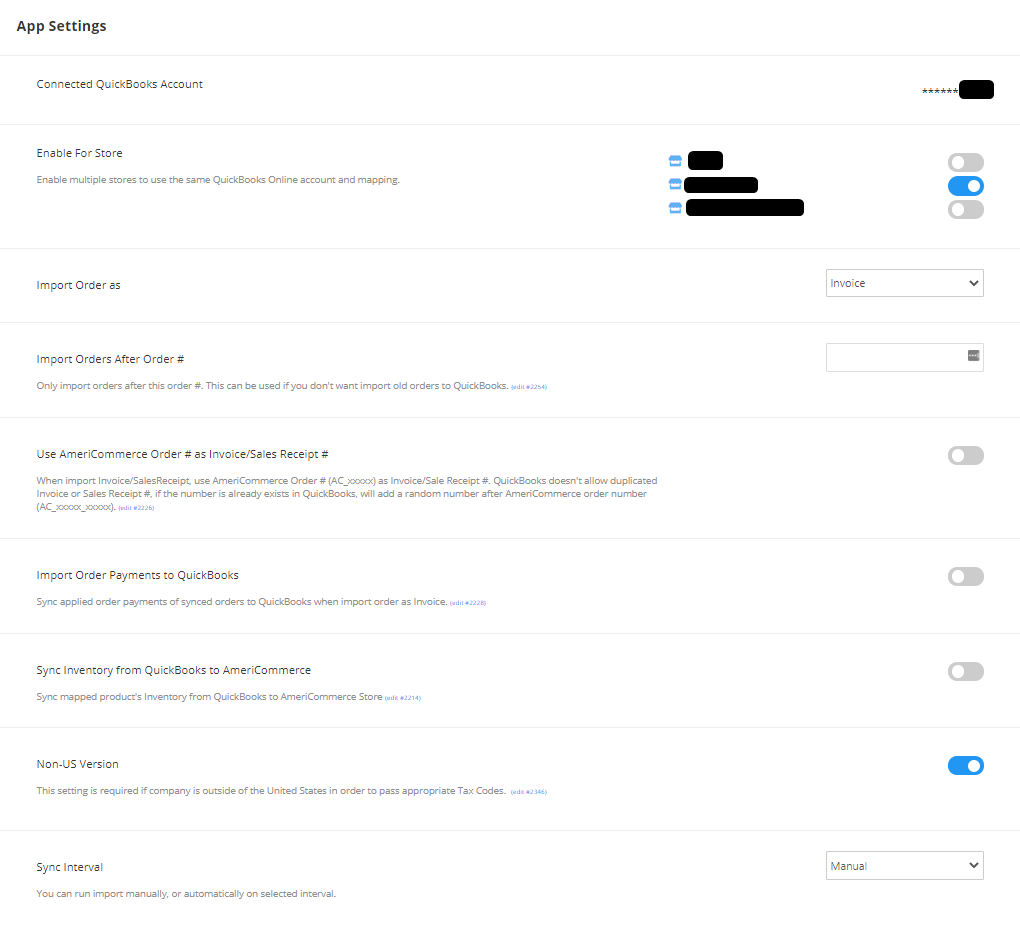 Enable for Store: Enable multiple stores to use the same QuickBooks Online account and mapping.
Import Order as: You have the ability to select whether your orders import as a Sales Receipt or an Invoice. Note: Invoice will be void when an order status is cancelled/declined.
Sync Orders After Order#: Any orders proceeding the number specified will not be synced. This is needed if you are transitioning from AmeriSync and/or if you do not wish to sync previously synced orders.
When import Invoice/SalesReceipt, use AmeriCommerce Order # (AC_xxxxx) as Invoice/Sale Receipt #. QuickBooks doesn't allow duplicated Invoice or Sales Receipt #, if the number is already exists in QuickBooks, will add a random number after AmeriCommerce order number (AC_xxxxx_xxxxx).
Sync applied order payments of synced orders to QuickBooks when import order as Invoice.
Sync Inventory from QuickBooks Online: Sync mapped product's Inventory from QuickBooks Online. *Note: Inventory will only sync from QuickBooks to AmeriCommerce.
Non-US Version: This setting is required if company is outside the US in order to pass appropriate tax codes.
Sync Interval: You can choose to run sync manually or automatically sync orders and inventory on a selected interval.
Tax and Special Items Mapping (Required):
NonTaxItem: Only required if Non-US version is enabled to pass appropriate tax code.
TaxItem: If your QuickBooks Online uses Auto Tax, do NOT map tax. However, this is still required if Non-US version is enabled. If your account uses manual tax, make sure to map your AmeriCommerce "taxItem" to your QuickBooks Online tax rate item.
Default Non Mapped Item: map this item to a QuickBooks Online item if you want to use a default QuickBooks Item for all the products not mapped to QuickBooks Online.
Handling and Additional Fees: if your store is charging a shipping and handling fee, or any other other additional fees, you will also need to map those as items to the correct QuickBooks Online item.
Shipping fee: If you want to import shipping as a line item to QuickBooks, map it to a QuickBooks item. This can be used when you charge tax on shipping and use Manual tax in QuickBooks.
Products Mapping: Map product and variant inventory from your online store to QuickBooks items.
Customer Mapping: When syncing an order, customers will automatically be mapped to QuickBooks Online as a customer. It will search by customer's email address, and if it does not exist in your QuickBooks Online account, a new customer will be created.
Synced Order History: List of orders synced to QuickBooks Online. Orders will not be synced to QuickBooks Online again after it is originally synced unless that the history of the sync is deleted. If you do want to sync orders again, you may delete the synced record here. From there any new Order will prompt that order to be synced again, or you may select More Actions > Sync Now from the main QuickBooks Online apps settings page.

Syncing Custom Fields
In the QuickBooks settings, you can Sync up to 3 custom fields.
You can use existing static text, or order based, merge codes here.
*Note: The QuickBooks Custom Fields work with Order Related Merge Codes ONLY!
Mapping
---
Select the specific mapping type you are wanting to configure, then Select the Page Edit icon under the Actions column to begin mapping. Next, click the search button to search for a specific item in QuickBooks to map to. You can set up a default non mapped item. However, if you want to sync inventory, you have to map your products.
Once the search is complete you will be presented with the search results and a list of items available to map to.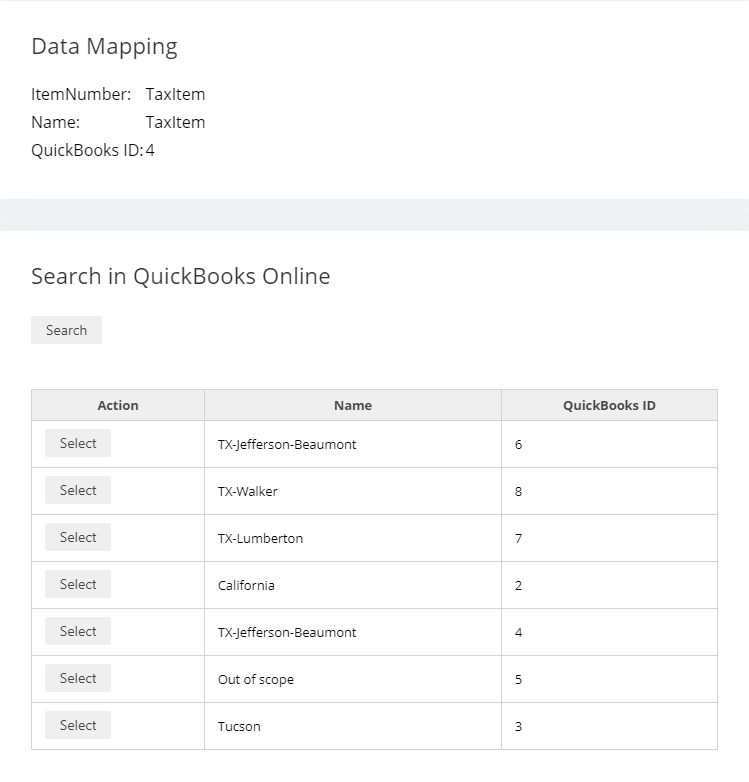 Disconnect
---
If you wish to disconnect the store from QuickBooks Online for any reason, you can find the disconnect link under your QuickBooks Account Number listed in Tools > Apps & Addons > QuickBooks Online: