Google Customer Reviews is a free program that lets you collect feedback from users who've made a purchase on your site. Ratings from Google Customer Reviews apply to your seller ratings eligibility. Seller ratings appear on Search Ads, in Shopping ads, and on an optional badge that can be displayed on your site.
Immediately after placing an order, your customers will be directed to the order view/confirmation page where there will be a pop-up to opt in for a google customer review.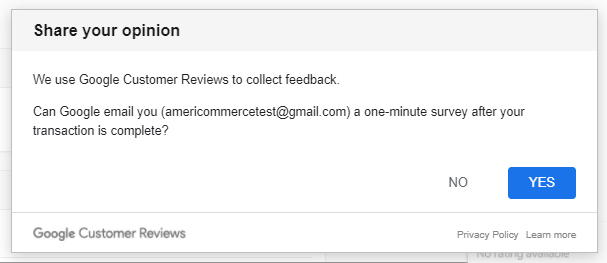 Setup
The first thing you will need to enable Google Customer Reviews is a Google Merchant Center Account. If you do not already have one, you can create one here.
We would also recommend reading Google's introduction on Google Customer Reviews here.
To begin setup, you will want to log into your AmeriCommerce admin panel. Now go to Tools > Apps & Addons > Google Customer Reviews.
The page will present these setup options.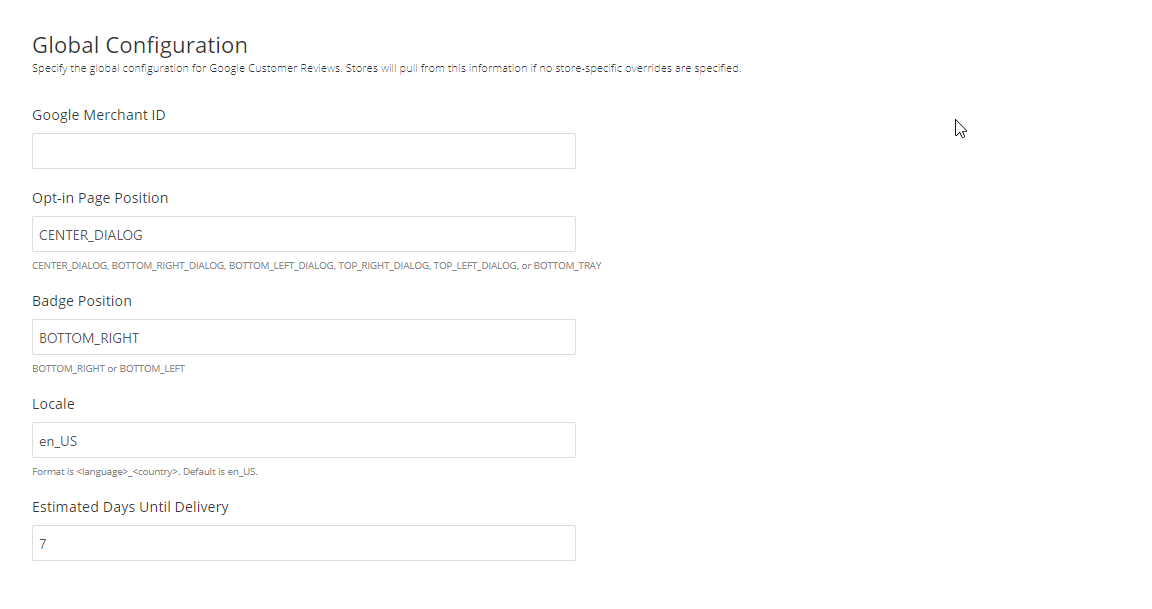 Fill in the information about your store. Google provides the Merchant ID. The rest are options about the store or how the badge displays.
Further down, there are another set of options. Here, there is a notification that will display if AmeriCommerce detects an incorrect setup.

After filling in the information about your store, go ahead and Save. The opt-in script will be added to your order confirmation page, and will prompt users after checkout to choose whether to take part in a Google Customer Reviews survey.
Google Customer Review Ratings Badge
There is an optional badge that you can display on your site which showcases your Google Customer Reviews rating. To display your Google Customer Reviews ratings badge across your entire site, turn on the 'Badge Across Site Enabled' option. If you would like more control of where your badge displays, you can use the merge code ##GOOGLECUSTOMERREVIEWSBADGE## on most of your site pages.